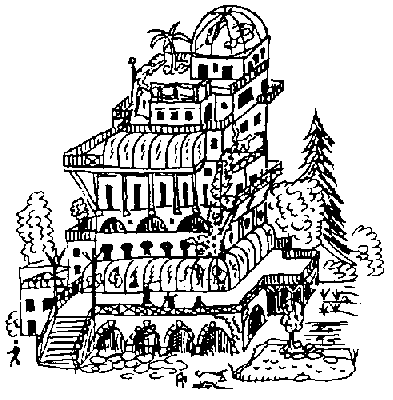 Filosofi suositteli minulle p.m.:n vuonna 1983 kirjoittamaa Bolo Boloa. Ja hyvähän se on. Kirja löytyy kokonaisuudessaan täältä.
Tässä pätkä jossa kuvataan kulttuuri-identiteetin (nima) merkitystä yhteisöille (Bolo):
The bolos are not primarily ecological survival systems, for if you only want to survive it's hardly worth it. The bolos are a framework for the living-up of all kinds of life styles, philosophies, traditions and passions. Bolo'bolo is not a life style in itself, but only a flexible system of limits (biological, technical, energical, etc.). As for the knowledge of such limits, ecological and alternativist materials can be quite helpful, but they should never serve to determine the content of the different lifestyles. (Fascism had its biological ideological elements…) At the core of bolo'bolo there's nima (cultural identity) and not survival. For this same reason, nima cannot be defined by bolo'bolo, it can only be lived practically. No particular "alternativist" identity (healthfoods, earth shoes, woolen clothes, Mother Earth mythology, etc.) is proposed.

The crucial function of cultural identity is illustrated best by the fate of the colonized peoples. Their actual misery didn't start with material exploitation, but with the more or less planned destruction of their traditions and religions by the Christian missionaries. Even upder present conditions many of these nations could be better off-but they just don't know anymore why they should be, or what for. Demoralization goes deeper than economic exploitation. (Of course, the industrialized nations have been demoralized in the same way-it just happened longer ago and has become part of their standard cultures.) On Western Samoa there is no hunger and almost no disease, and the work intensity is very low. (This is due mainly to the climate and to the rather monotonous diet of taro, fruits and pork.). Western Samoa is one of the 33 poorest countries in the world. It has one of the highest suicide rates in the world. Mostly those killing themselves are young people. These suicides are not due to pure misery (even if it cannot be denied that there is misery), but to demoralization and the lack of perspectives. The Christian missionaries have destroyed the old religions, traditions, dances, festivals, etc. The islands are full of churches and alcoholics. The paradise had been destroyed long before the arrival of Margaret Mead. In spite of some vulgar-Marxist conceptions, "culture" is more important than "material survival", and the hierarchy of basic or other needs is not as obvious as it might seem, but rather "ethnocentric". Food is not just calories, cooking styles are not luxuries, houses aren't just shelters, clothes are much more than body insulation. There's no reason why anybody should be puzzled if people who are about to starve struggle for their religion, their pride, their language and other "superstructural" "fancies" before they demand a guaranteed minimal wage. It is true that these motivations have been manipulated by political cliques, but this is also the case with "reasonable" economic struggles. The point is, they exist.

Where should the nima come from? It is certainly wrong to look for cultural identities exclusively in old ethnic traditions. The knowledge and rediscovery of such traditions is very useful and can be very inspiring, but a "tradition" can also be born today. Why not invent new myths, languages, new forms of communal life, of housing, clothing, etc.? One's traditions can become another's utopia. The invention of cultural identities has been commercialized and neutralized in the forms of fashion, cults, sects, "waves" and styles. The spreading of cults shows that a lot of people felt the need for a life governed by a well-defined ideological background. The desire that is perverted in the cults is the one of unity of ideas and life-a new "totalitarianism" ("Ora et labora."). If bolo'bolo is called a kind of pluralist "totalitarianism", that's not a bad definition. It can be said that since the 1960′s a period of cultural invention has begun inmany–especially industrialized–countries: oriental, Egyptian, folk, magical, alchemical and other traditions have been revived. Experimentation with traditional and utopian life styles has begun. After having been disappointed by the material riches of the industrial societies, alot of people have turned to cultural wealth.

Since the nima is at the core of a bolo, there can't be any laws, rules, or controls over it. For the same reasons,general regulations on work conditions inside the bolos is impossible. Regulated working time has always been the central show-piece of utopian planners. Thomas More in 1516 guarantees a six-hour day, Callenbach a 20-hourweek, Andre Gorz (Les chemins du Paradis-l'agonie du Capital, galilee, 1983) proposes a 20,OOO-hour work life. After Marshall Sahlins' research on Stone Age Economics (1972), the two-or three-hour day is about to win the race. The problem is who should enforce this minimal working time, and why. Such regulations imply a central State or a similar organism for reward or pounishment. Since there is no state in bolo'bolo, there can't be any (even very favorable) regulations in this field. It is the respective cultural context that defines what is considered as "work" (=pain) in a certain bolo and what is perceived as "leisure" (=pleasure), or if such distinction makes any sense at all. Cooking can be a very important ritual in one bolo, a passion, while in another bolo it's atedious necessity. Maybe music is more important in the latter, whereas in another bolo it would be considered noise. Nobody can know whether there will be a 70-hour work week or a 15-hour work week in a bolo. There is no obligatory life style, no general budget of work and leisure, just a more or less free flow of passions, perversions, aberrations, etc.